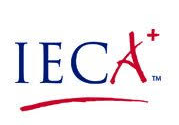 IECA Independent Educational Consultants Association
3251 Old Lee Highway, Suite 510
Fairfax, VA 22030
IECA is the professional organization for independent educational consultants working in private practice. For 38 years IECA has helped its members serve families in educational decisions that include colleges, local day and boarding schools; schools or programs for students with learning or therapeutic needs; international placements, summer opportunities, and graduate and professional schools.
Highlights
WELCOME TO IECA
The process for finding the right school, college, or program for your child is one of the most important decisions your family will make.
Hiring an independent educational consultant who is a member of IECA ensures that you will work with a professional who has proven expertise, is fully vetted, and demonstrates the highest standards in education, training, ethics, and experience.
About IECA
The Independent Educational Consultants Association (IECA) is a not-for-profit, international professional association representing experienced independent educational consultants.
Chartered in 1976, the Association's headquarters is located in the Washington, DC area. IECA sponsors professional training institutes, workshops, conferences, and webinars, publishes a directory of qualified independent educational consultants, offers information to students and their families regarding school selection issues, and works to ensure that those in the profession adhere to the highest ethical and business standards.
IECA Mission Statement
To promote the highest quality independent educational consulting to students and families seeking skilled, ethical, academic or therapeutic guidance; to enhance professional development; and to foster career satisfaction among members.
Association Goals
• Support members across their professional lifetime.
• Educate members in order to foster high-quality academic and therapeutic advisory services.
• Advocate for members and the students and families with whom they work.
• Maximize organizational effectiveness.
IECA Core Values
Our Core Values are the foundation of the association. They continually guide our decision-making as well as our interactions with our clients and with each other.
IECA Statement on Diversity, Equity, and Inclusion (DEI)
IECA believes in the pursuit of an inclusive, affordable educational system that provides equal access and equitable outcomes for all students and, ultimately, improves society for all. To this end, the Association and its members share a responsibility to develop and support a diverse, equitable, and inclusive community that is welcoming to all individuals, regardless of age, citizenship status, culture, disability, ethnicity, gender identity or expression, learning differences, national origin, race, religion, sexual orientation, and socioeconomic status. IECA is committed to fulfilling this responsibility in all aspects of the organization and as a leader in the greater independent educational consulting profession.
IECA Foundation
IECA was instrumental in establishing the Independent Educational Consultants Association Foundation. The IECA Foundation supports projects that will benefit those involved in the process of making educational choices, including students, families, educational consultants, and other professionals.
This listing appears in the following categories:
Nothing matches that search just yet. Please check again later.