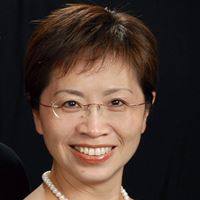 Karen Zhang
@KarenZhang
Independent Educational Consultant
Dedicated in understanding the needs of the students and their families, Karen is determined to guide every student to the best fit college.
InCall® Rates
| Duration | Price |
| --- | --- |
| 6 minutes (SixFree Call) | $0 (No charge) |
| 15 minutes | $35.00 |
| 30 minutes | $70.00 |
| 60 minutes | $150.00 |
Tags
College Counseling Academic Advising Test Planning Mock Inerview Application & Essay Guidance Career & Major Guidance College Selection & List Development Comprehensive College Guidance Financial Aid & Affordability First Genenration International Students 国际学生 Resume Building Summer Programs
Biography
Inspired by her experience of working with students in the classroom, Karen saw the need to help students fulfill their potential in utilizing their creativity, enthusiasm and curiosity. Karen enjoys working with students and guide them to explore the right fit college and career direction.
After over a dozen years of working in the marketing research and analysis field, Karen earned her expertise in active listening, thorough understanding customers' needs, and delivering quality analysis results. Her research background enables her in searching for the right colleges from variety of resources. With marketing experience, Karen has well qualified skills to advise students on how to best represent themselves to the target schools as well as to the world through positive social media on-line presence.
Through attending national conferences and joining professional organizations such as HECAC and WACAC, Karen is well connected with other college counseling and admission colleagues. She frequently visits colleges and has gained first-hand knowledge about the people, atmosphere, and environment of these schools. With strong belief in equal education opportunities among all young people regardless social or economic background, Karen volunteers at Breakthrough Silicon Valley, a non-profit organization which fosters under-served students to get in and graduate from colleges. She mentors students in budget planning for college.
Karen has a Certificate of Independent Educational Consultant from UC Irvine Ext. She also holds degrees in Bachelor of International Law from China Foreign Affairs University and Master of Economics from Mankato State University, MN.
Experience
Independent Educational Consultant
Admission-Bridge
January 2015 - present
- Guide students in college application process to get in the right colleges
- Advise students in career and major study direction through scientifically proven assessment tool
- Assist students in coursework mapping, test planning and extracurricular choices
- Teach families on financial aid and scholarship search to get free money
- Help students build a college list based on prioritized criteria and probabilities
- Coach students in essay writing to best present their unique selves
- Conduct mock interview with students to improve their communication skills
- Encourage students to gain confidence, grow independence and discover their true passion
Sr. Marketing Analyist
LifeScan (a Johnson & Johnson Company)
February 2002 - March 2015
- Conducted international market analysis
- Analyzed data-mining and promotional effects
- Designed and managed sales performance and health plan databases
- Worked with IT and sales force to automate reporting system
Other
Languages
Certifications
UC Irvine
May 2016 - present
Volunteer
Mentor
Breakthrough Silicon Valley (Education)
February 2015 - present
Mentor high school students in college budget planning, personal financial management, and other aspects in college planning.
Volunteer in College Counseling
Cristo Rey Jesuit High School (Education)
February 2017 - present
Help students in college planning.
Check back later for some activity here. Thank you!

6/3/2018,
Karen Zhang
replied:
My current practice has been working with students in Silicon Valley area. For the 2019 application cycle, I did work with a student from China. She and her mom came to visit colleges in San Francisco area. I consulted with them on the hourly basis. I am open to the idea of working with students remotely.
I was taking a test prep course and they told us that students of Asian heritage need 200 points higher on the SAT, on average, to get admitted to top schools. I don't know if that's true but I have Asian and non-Asian heritage. Should I de-emphasize my Asian heritage in my college application? Hope to hear from you ASAP.

9/18/2017,
Karen Zhang
replied:
Thank you for asking a great question!
How do you want to identify yourself? Who do you want to be? Most colleges want to build a diversified class with unique individuals so that the students' experiences inside and outside classrooms can be dynamic and rich. I would not recommend de-emphasizing your strong feelings about who you are and downplay the heritage that you feel proud of, either it is Asian or any other heritage.
There are colleges which make the Asian community feel being stereotyped. In my practice, I do see some Asian students being pressured by their parents and follow the crowd to learn instruments and focus on academics, especially advanced math regardless of their interests.
I have a student who has half Asian heritage. I encourage her to think interpedently and develop her unique qualities and interests to represent her true self. She is not a typical Asian, or half Asian. She is just her, and no one is like her. She is on her way to achieve and strive wherever she goes for college.